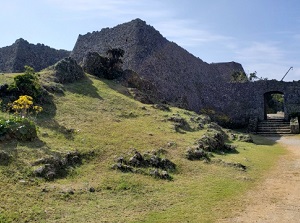 Nakagusuku Castle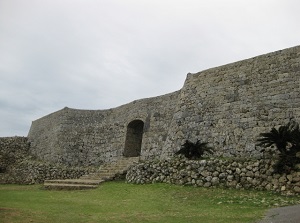 Stone wall of Nakagusuku Castle
Nakagusuku Castle ("Nakagusuku-jô" in Japanese) is a castle of Ryukyu Kingdom.
It is located about 15 km northeast of Naha city and is close to the eastern coast of Okinawa Island.
The site is on a hill at about 160 meters elevation.
It is about 0.7 km from east to west and about 0.2 km from north to south in width.
The castle is made up of six enclosures surrounded by stone walls.
There was the main palace in the central enclosure.
The walls are made of many blocks of limestone.
But plaster or cement wasn't used.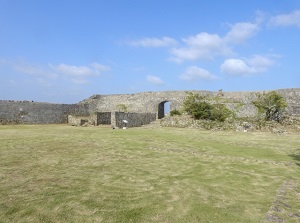 Central enclosure of Nakagusuku Castle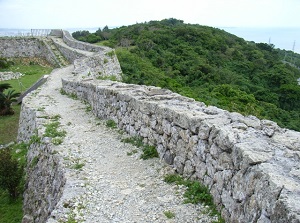 Stone wall of Nakagusuku Castle
The castle was built for the chief of the area in the middle of the 14th century.
A chief enlarged the castle by the 1440s, then the castle became the current scale.
But he had lost the position by conspiracy in 1458, and the castle was deserted.
After that, this castle was used as a government office.
The United States came to Japan to ask Edo Government (then central government in Tokyo) to open the country in 1853, and the fleet visited Okinawa Island on this occasion.
When the party saw this castle, they were surprised at its advanced architectural techniques.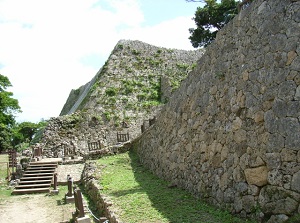 Approach of Nakagusuku Castle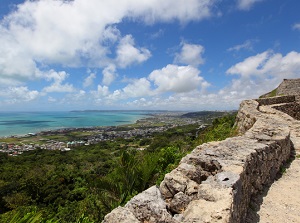 View from Nakagusuku Castle
There was severe Okinawa Battle in Okinawa Island in 1945.
Fortunately, the damage of the castle was light.
In 2000, this castle was declared a World Heritage site, as one of Gusuku Sites and Related Properties of the Kingdom of Ryukyu.
How to get here
By route bus, about 50 minutes from Naha terminal to Nakagusuku-Shogakko-mae stop.
About 2 km walk on an upslope from there.
Hotels around Nakagusuku Castle
Other Tourist Attractions in Okinawa Prefecture
South part in Okinawa Island
Middle and north part in Okinawa Island
Other islands of the prefecture