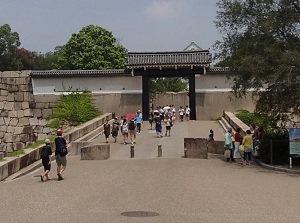 Sakuramon gate of Osaka Castle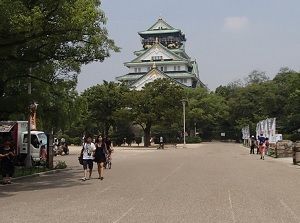 Approach to castle tower
Osaka Castle is located about 3.5 km southeast of Osaka station and about 3.5 km northeast of Nanba.
It is one of the famous castles in Japan.
Osaka Castle was built by Toyotomi Hideyoshi, who dominated the whole Japan as a warlord, in 1585.
It is said that the castle was very gorgeous.
But, after the death of Hideyoshi in 1599, Toyotomi family was overthrown in 1615 by Tokugawa Ieyasu, the founder of Edo government and the first Shogun.
At that time, the castle was set on fire, and was be burned to the ground.
After that, Tokugawa Hidetada, the 2nd Shogun of Edo government and a son of Ieyasu, rebuilt the castle in 1629.
And new Osaka Castle became the castle under direct control of Edo government.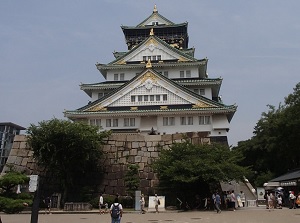 Osaka Castle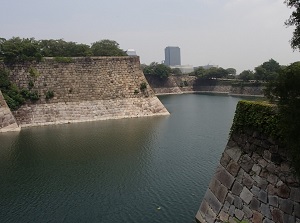 Moat of Osaka Castle
The castle tower was destroyed by fire by a stroke of lightning in 1665, but it hadn't been rebuilt.
Tokugawa Yoshinobu, the last Shogun of Edo government, was living in this castle in 1868.
At that time, the feudal Edo government was being overthrown by the troops with many samurais who wanted to establish the new government after the model of advanced Western countries.
Yoshinobu run away to Edo before the troops came to Osaka, but this castle was destroyed again by the attack by the troops.
This led to the beginning to new Meiji Period.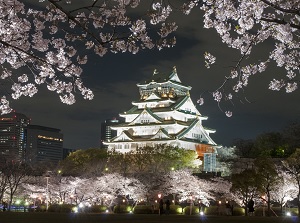 Osaka Castle & cherry blossoms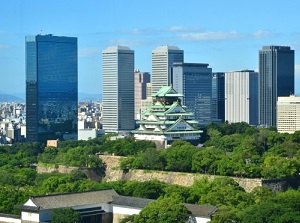 Osaka Castle
In 1928, Osaka mayor make a proposal to restore Osaka Castle.
And Osaka citizens raised money for the castle, and the castle was restored in 1931.
During World War II, many buildings in this site were destroyed by air raids, but the castle tower remained fortunately.
In the site, there are 13 original gates, turrets and buildings.
They are designated as national important cultural properties.
And many stone walls remain and the site is surrounded with wide moats.
The site is about 0.9 km from north to south and about 0.8 km from east to west.

Shop in Osaka Castle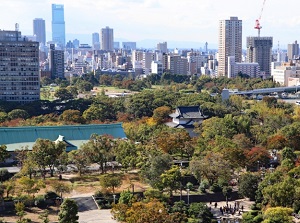 View from Osaka Castle
The castle tower is five stories high and the inside is a museum.
We can enter the castle tower.
Around the site of castle, the parks are set up and some public facilities are in the park.
The park including Osaka Castle is called Osakajo-koen (大阪城公園, Osaka castle Park).
How to get here
By JR Osaka-Kanjosen (Loop Line), get off at Sakuranomiya.
About 15 minutes walk from the station.
Or, JR Tozai Line, get off at Osaka-Tenmangu.
About 10 minutes walk from the station.
Nearest stations of subway.
Tanimachi 4-chome (●T23 Tanimachi Line, ●C18 Chuo Line)
Tenmabashi (●T22 Tanimachi Line)
Morinomiya (●C19 Chuo Line, ●N20 Nagahori-Tsurumiryokuchi Line)
Osaka Business Park (●N21 Nagahori-Tsurumiryokuchi Line)
Hotels around Osaka Castle
Other Tourist Attractions in Osaka Prefecture
Around Kita area
Around Minami area
Waterfront area in Osaka city
Other area in Osaka Prefecture