Umeda Sky Building [
梅田スカイビル

]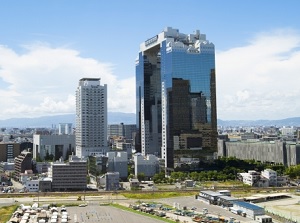 Umeda Sky Building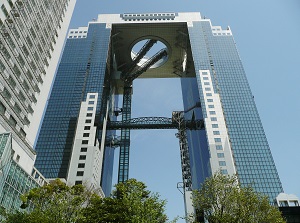 Umeda Sky Building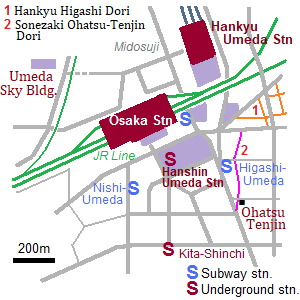 Umeda Sky Building is a high-rise building completed in 1993.
It is located about 0.6 km northwest of JR Osaka station.
The height is 173 meters, and there are two tower buindings.
The highest part is connected by round Kuchu Teien Observatory (空中庭園展望台, Floating Garden Observatory).
Kuchu Teien Observatory is the attractive spot of this building.
It is an unroofed observatory, which is rare for high-rise building.
We can enjoy a 360-degree view of Osaka, with the wind fanning us.

Kuchu Teien Observatory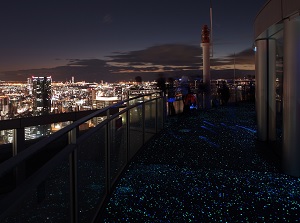 Kuchu Teien Observatory in the evening
© Osaka Convention & Tourism Bureau
Under the observatory (40th floor), there is also an observatory room with cafe.
And there is a small shrine on the floor, and it is said that you will success in love if you worship the shrine.
This observatory is opened from 9:30 to 22:30.
In addition, this building was introduced as one of Top 20 buildings around the world by "The Times", a British newspaper, in 2008.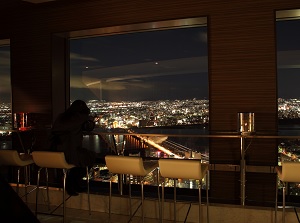 Observatory room in Umeda Sky Building
© Osaka Convention & Tourism Bureau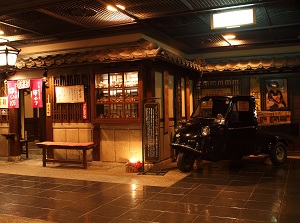 Takimi Koji
© Osaka Convention & Tourism Bureau
There is Takimi Koji (滝見小路) on the first basement level.
It is the unique underground mall, and the retro town in Showa period (1925-1989) is recreated.
There are many various restaurants and cafes.
How to get here
About 10 minutes walk from JR Osaka station, Hankyu-Umeda station.
Other Tourist Attractions in Osaka Prefecture
Around Kita area
Around Minami area
Waterfront area in Osaka city
Other area in Osaka Prefecture