Tempozan Harbor Village [
天保山ハーバービレッジ

]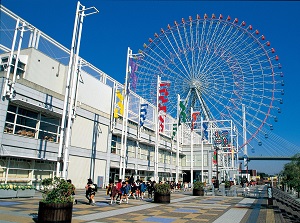 Tempozan Marketplace
© Osaka Convention & Tourism Bureau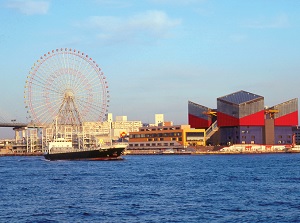 Tempozan Harbor Village
© Osaka Convention & Tourism Bureau
Tempozan Harbor Village is an entertainment facility in the waterfront area of Osaka city.
It faces the mouth of Aji River, and there is Universal Studios Japan on the opposite side of the river.
The main facility is Tempozan Marketplace.
In the building, there are many restaurants and shops.
On the 2nd floor, there is Naniwa Kuishinbo Yokocho, and it is the area of restaurants like a retro town in Showa Period (1925-1988).
And, on the 3rd floor, there is LEGOLAND Discovery Center Osaka.
(Main LEGOLAND in Japan is in Nagoya, and another discovery center is in Tokyo.)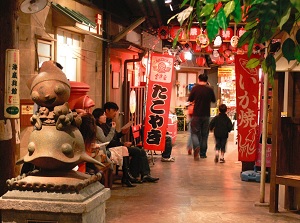 Naniwa Kuishinbo Yokocho
© Osaka Convention & Tourism Bureau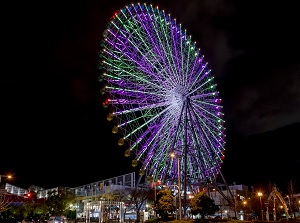 Tempozan Giant Ferris Wheel in the evening
© Osaka Convention & Tourism Bureau
The attractive facility is Tempozan Giant Ferris Wheel.
The diameter is 100 meters and it is one of the largest Ferris wheels in the world.
It takes 15 minutes to complete a ride.
There is an aquariom Kaiyukan to the southeast of the Tempozan Marketplace, and it is also included in Tempozan Harbor Village.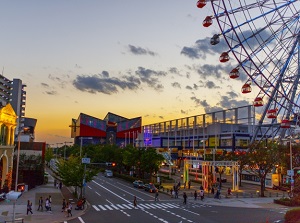 Tempozan Harbor Village in the twilight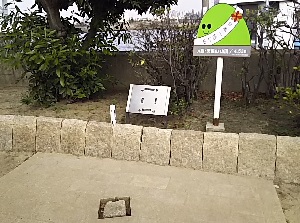 Sign of the top of Mt.Tempo
and formal triangulation marker for surveying
This facility has a few ports of the river.
"Capt.Line" connects this facility and the riverside of Universal Studios Japan in 10 minutes.
And "Osaka Suijo Bus" comes here as the cruising around Osaka Bay and the rivers.
By the way, there is Tempozan Park right to the northeast of the facility.
In the park, there is Mount Tempo.
The Japanese name is "Tempozan" and the height is only 4.53 meters.
It had been the formal lowest mountain in Japan.
But Mount Hiyori in Sendai city became low by ground subsidence after the Great East Japan Earthquake in 2011 and the height became from 6 meters to 3 meters.
So Tempozan is the 2nd lowest mountain in Japan now.
Of course, you can climb the mountain easily in the park.
How to get here
Nearest stations of subway.
Osakako (●C11 Chuo Line)

Hotels around Tempozan Harbor Village
Other Tourist Attractions in Osaka Prefecture
Around Kita area
Around Minami area
Waterfront area in Osaka city
Other area in Osaka Prefecture