Sumiyoshi-taisha shrine [
住吉大社

]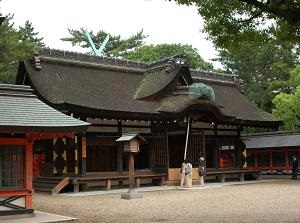 The 1st shrine in Sumiyoshi-taisha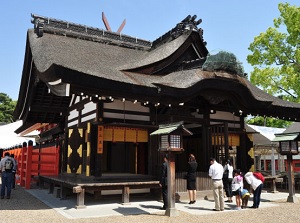 The 2nd shrine in Sumiyoshi-taisha
Photo by Railstation.net
Sumiyoshi-taisha is a central Shinto shrine in Osaka area, and is located about 5 km south-southwest of Ten-noji station.
In Japanese myth, it is said that this shrine was founded in 200 A.D.
This shrine was the guardian god of the sea.
Three gods of sea and Empress Jingu at that time have been enshrined.
From 600 to 838, Japan government had sent missions to China near twenty times, for getting the newest culture and technology and gathering Buddhist scriptures.
The ships to China set off from the harbor near Sumiyoshi-taisha, and it is said that the gods were enshrined on the bow of the ship.
In the precincts, there are four main shrines for three gods and Empress Jingu.
Current shrines were built in 1810, and all of them are designated as national treasures.
The shrines from the 1st to the 3rd line up, and the 4th shrine is at the side of the 3rd.
The layout is very unique in Japan.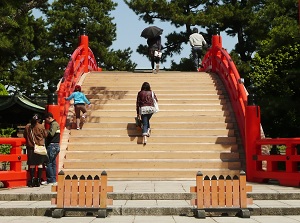 Soribashi Bridge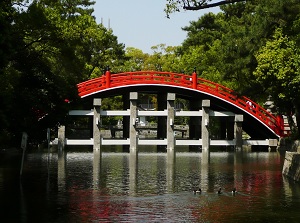 Soribashi Bridge
The worshipper crosses Soribashi Bridge over a pond.
It has a shape of semicircle, and it means a rainbow connecting earth and heaven.
It is said that it was built in the early 17th century and the position was near the sea at that time.
After crossing the bridge, there is "Chozuya" (hand-wash station).
You purify your hands there.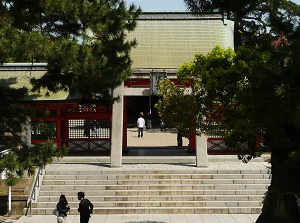 Entrance to four shrines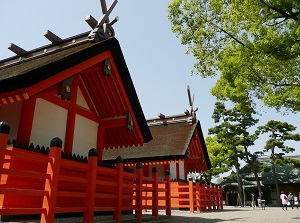 The 3rd & 4th shrines in Sumiyoshi-taisha
Then, you visit all of four main shrines and worship.
This is the formal manner in this shrine.
How to get here
From Nanba station of Nankai Railway, about 9 minutes by local train for Wakayama.
Hotels around Sumiyoshi-taisha
Other Tourist Attractions in Osaka Prefecture
Around Kita area
Around Minami area
Waterfront area in Osaka city
Other area in Osaka Prefecture