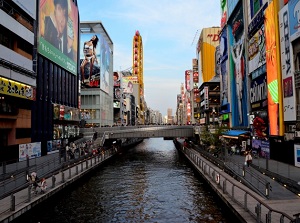 Dotonbori River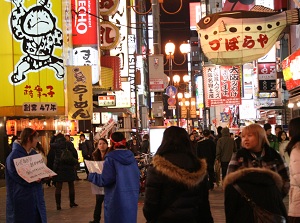 Street of Dotonbori
Dotonbori is a name of a canal which flows through "Minami" area from east to west and is about 2.5 km long.
Rather, the district along the canal is popular.
The district is about 200 to 400 meters north of the Nanba area.
In Japanese, the first "o" is pronounced long, so it is easd as "Dôtonbori".
The canal is formally "Dôtonborigawa" (Dôtonbori River).
It was constructed by Yasui Dôton and a few reclaimers in 1615.
Dôton was a merchant, but he put his own money to construct the canal for the development of this area.
Some theaters for Kabuki or Ningyo-Joruri (Japanese puppet show) had been built around the canal since the 1660s, then this area became one of the entertainment districts in Osaka.
Now there are no theaters, but many various restaurants gather in this district.
And the fancy and unique signs are attractive and are the symbols of Dotonbori.
The central part is the section between Midosuji and Sakaisuji streets, and the length is about 600 meters.
On the both side of the river, promenades are set up and are called Tombori Riverwalk.
And there is a boarding point of Osaka Suijo Bus which is a cruising ship in Osaka at the center of Tombori Riverwalk.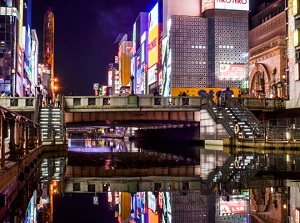 Ebisu Bridge in Dotonbori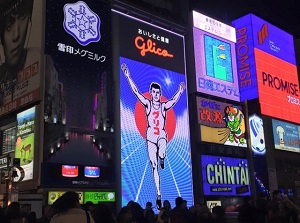 Sign of Glico by Ebisu Bridge
To the east of Midosuji street, Ebisu Bridge (戎橋) is across Dotonbori.
The area around the bridge is the most popular.
The sign of a runner by Ebisu Bridge is very famous.
It is the sign of Ezaki Glico Co., Ltd., one of the major confectionary companies in Japan.
This sign has been set up since 1935, and the current sign is the sixth generation.
Another is the sign of a huge moving crab and is attractive for foreign tourists.
It is the sign of a crab restaurant Kani-Doraku since 1962.

Kani-Doraku in Dotonbori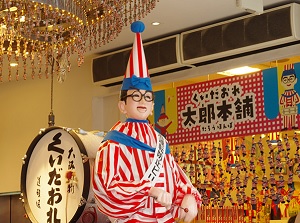 Kuidaore Taro in Dotonbori
One more symbol in Dotonbori is Kuidaore Taro.
It is a humourous doll that a man with glasses wearing a costume like a clown is beating a drum.
It was a mascot of a restautant "Kuidaore" in Dotonbori, and has been greatly popular in Dotonbori.
The restaurant was closed in 2008, and Kuidaore Taro was moved to Nakaza Cui-daore Building near Ebisu Bridge and is working in the shop.
How to get here
Nearest stations of subway.
Nanba (●M20 Midosuji Line, ●Y15 Yotsubashi Line, ●S16 Sennichimae Line)
Nipponbashi (●K17 Sakaisuji Line, ●S17 Sennichimae Line)
Other Tourist Attractions in Osaka Prefecture
Around Kita area
Around Minami area
Waterfront area in Osaka city
Other area in Osaka Prefecture