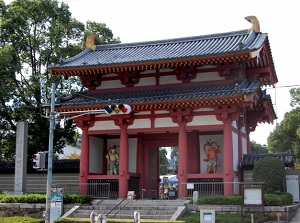 Minami-Daimon gate in Shitennoji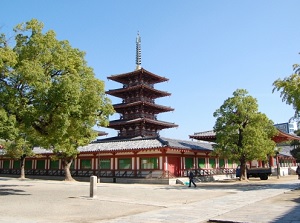 Five-storied pagoda and corridor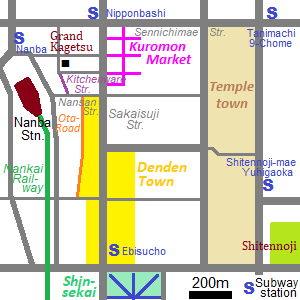 Shitennoji is a Buddhist temple located about 0.7 km north of JR Tennouji station and about 1 km east of Tsutenkaku.
This temple was founded in 593, and it is one of the oldest temples in Japan.
There is a mention in the Japan's oldest history book written in the 8th century.
In 587, a battle took place between Soga Clan and Mononobe Clan.
Soga Clan had admired Buddhism, but Mononobe Clan had denied Buddhism.
Prince Shotoku, who was 14 years old, was in Soga Clan, and he made four Buddha statues from sumac trees.
And he promised the statues that he would build a temple for the statues if Soga Clan would win the battle.
As a result, Soga Clan won the battle.
In 593, Empress Suiko ascended the throne, and Prince Shotoku became a regent.
And he built Shiten-noji temple as promised.
Since that, he created the framework of a nation to respect Emperor/Empress and Buddhism.
That led to the formation of the first ancient nation in Japan.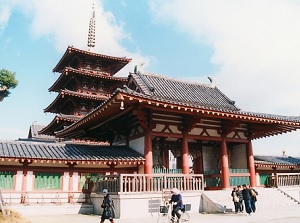 Niomon gate to inside of corridor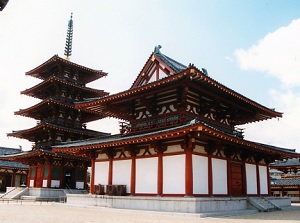 Kondo and Five-storied pagoda in Shitennoji
The buildings in this temple have often been damaged over a long period of history.
They were battles in medieval times, lightning stokes, typhoon, air raids in World War II.
The current buildings were rebuilt in the 17th to 20th centuries.
Many of them are designated as national important cultural properties.
The precinct is about 400 meters from north to south and about 300 meters from east to west.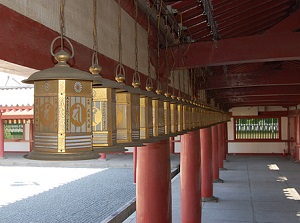 Corridor in Shitennoji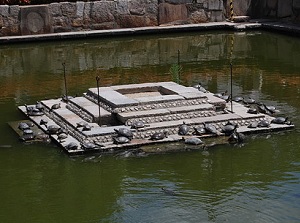 Pond of tortoises in Shitennoji
The important part is surrounded by roofed corridors about 100 meters from north to south and about 70 meters from east to west.
Kondo temple and the five-storied pagoda are inside of the corridors and Kodo temple is on the north part.
There are many buildings out of the corridors and the main gate (Minami-Daimon) is to the south.
Shitennoji is a historical temple, but it sells various unique charms.
Especially, heart-shaped charm is popular, and it is for good mother's milk and breasts of woman.
And it is able to use as brassiere pad.
How to get here
From Tennoji station of JR Osaka loop Line, about 12 minutes on foot.
Nearest stations of subway.
Tennoji (●M23 Midosuji Line, ●T27 Tanimachi Line)
Shitennojimae-Yuhigaoka (●T26 Tanimachi Line)
Other Tourist Attractions in Osaka Prefecture
Around Kita area
Around Minami area
Waterfront area in Osaka city
Other area in Osaka Prefecture