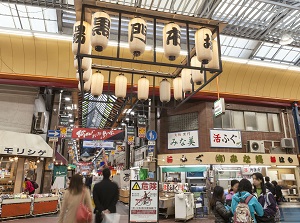 Kuromon Market
© Osaka Convention & Tourism Bureau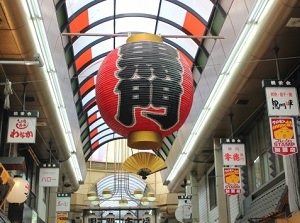 Big lantern in Kuromon Market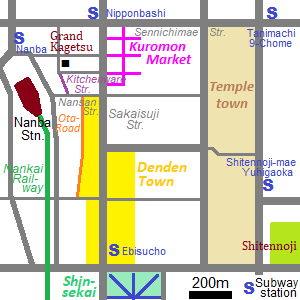 Kuromon Market ("Kuromon-ichiba" in Japanese) is the main market for foods in Osaka.
It is on the east side of Sakaisuji street and the north end is Sennichimae street.
Along the street about 400 meters long, there are about 150 small shops of fishes, vegetables, meats and some other daily commodities.
Of course, there are many small restaurants such as sushi, udon, ramen and so on.
It is said that this market area was formed around the 1820s.
Especially, after the end of World War II (1945), this market developed rapidly.
But, from around the end of 20th century, the number of visitors were gradually decreasing.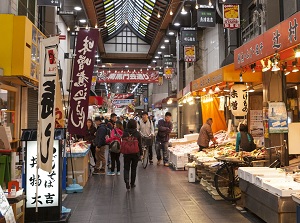 Kuromon Market
© Osaka Convention & Tourism Bureau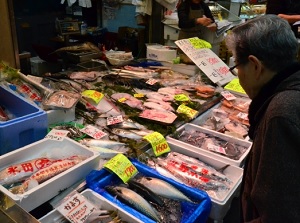 A fish shop in Kuromon Market
So the association of the market started to transmit the information for the foreign tourists that the numbers is expected to grow.
And they prepared the signs and the brochures in English and Chinese.
As a result, foreign visitors are increasing since the early 2010s.
Now, it is said that foreign visitors is more than Japanese visitors.
Eating while walking is OK in this market.
You can taste even expensive ingredients such as tuna, sea urchin, puffer fish, etc. as a snack.
How to get here
Nearest stations of subway.
Nipponbashi (●K17 Sakaisuji Line, ●S17 Sennichimae Line)
Hotels around Nipponbashi
Other Tourist Attractions in Osaka Prefecture
Around Kita area
Around Minami area
Waterfront area in Osaka city
Other area in Osaka Prefecture