Ruin of Naniwa Palace (Naniwa-no-miya) [
難波宮跡

]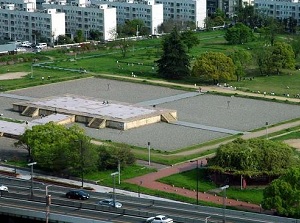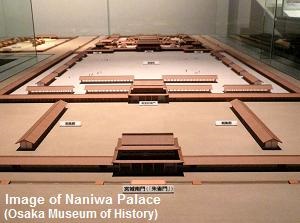 Ruin of Naniwa Palace is located just south of Osaka Castle.
In Japanese, Naniwa Palace is called Naniwa-no-miya.
For only 10 years from 645 to 655, here was the capital of Japan.
In 645, Emperor Koutoku transfered the capital from Asuka area in Nara Prefecture to here.
And new and gorgeous palace was completed in 652.
But he was died in 654, and the next Empress Saimei transfered the capital to Asuka again in 655.
About a century later, Emperor Shomu also transfered the capital and a detached palace was set up in 744.
But the capital was transfered the other place next year.
It is thought that there was a town around here at that time.
Above facts were written in an ancient history book in the 8th century.
But the ruin hadn't been found.
In 1953, a roof tile for large temple was excavated in this site.
So the excavation and reserch was done.
Then the existance of these capitals was confirmed in 1961.
Now this ruin has been a historic park.
The site is about 280 meters from north to south and about 260 meters from east to west.
Also, there is a part of the ruin under Osaka Museum of History.
How to get here
Nearest stations of subway.
Tanimachi 4-chome (●T23 Tanimachi Line, ●C18 Chuo Line)
Hotels around Naniwa-no-miya
Other Tourist Attractions in Osaka Prefecture
Around Kita area
Around Minami area
Waterfront area in Osaka city
Other area in Osaka Prefecture