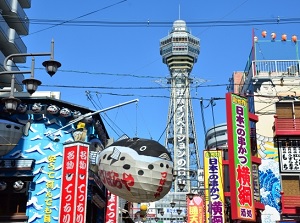 Shinsekai and Tsutenkaku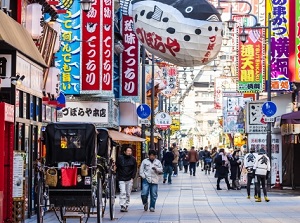 Street in Shinsekai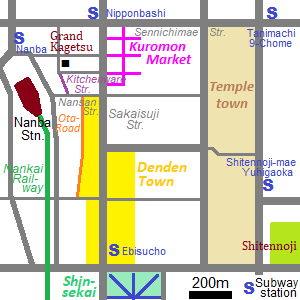 Shinsekai is a retro entertainment district located about 1 km south of Nanba station and about 1 km northwest of JR Ten-noji station.
There are many Japanese pubs, restaurants of Kushi-age (Kushi-Katsu), pachinko (Japanese pinball) parlors, game arcades, and many other various shops.
Shinsekai is a rectangular area about 300 meters from east to west and about 500 meters from north to south.
In 1903, the national industrial exhibition was held in this area.
After that, an amusement park "Luna Park" was constructed in the southern half of the site, and Tsutenkaku Tower was built in the center of the site in 1912.
And radial roads were set up from Tsutenkaku in the northern half of the site like Paris.
So many movie theaters, playhouses, restaurants were opened around Shinsekai in the 1910s.
Also, Ten-noji Zoo was opened in 1915 to the east of Shinsekai.
Shinsekai became a great amusement center in Osaka.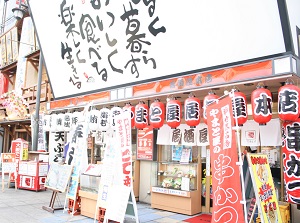 A restaurant in Shinsekai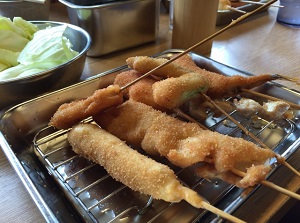 Kushi-katsu in Shinsekai
But the popularity of Luna Park declined, so it was closed in 1923.
And, in the World War II, Tsutenkaku was demolished because it becomes a good target for air laid.
But, Shinsekai was destroyed by air raids in 1945 in the World War II.
After the war, this area developed as an entertainment district again.
And new Tsutenkaku was rebuilt in 1956.
Even now, Shinsekai has the atmosphere at that time and has kept the popularity.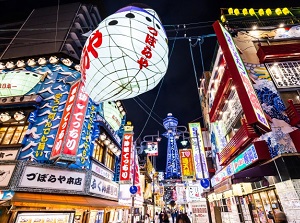 Shinsekai in the evening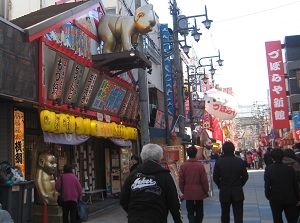 Billiken statues in Shinsekai
Shinsekai has an unique symbol Billiken.
About Billiken, see tha page of Tsutenkaku.
Billiken statue was set up in Luna Park first in 1912.
When Luna Park was closed, the Billiken had been lost.
In 1979, wooden Billiken was recreated by a sculptor, and has been set up in Tsutenkaku.
And the newest Billiken was put in 2012.
It is the real Billiken, but there are some Billiken statues in the town of Shinsekai.
It is said that Billiken will bring you good luck if you rub the soles of his feet.
How to get here
From Shin-Imamiya station of JR Osaka loop Line, about 7 minutes on foot.
Nearest stations of subway.
Ebisucho (●K18 Sakaisuji Line)
Dobutsuen-mae (●M22 Midosuji Line)
Other Tourist Attractions in Osaka Prefecture
Around Kita area
Around Minami area
Waterfront area in Osaka city
Other area in Osaka Prefecture