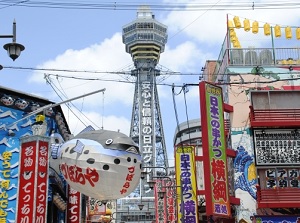 Tsutenkaku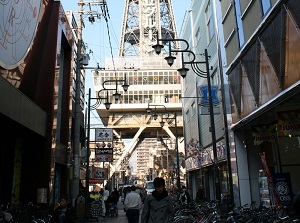 Street to Tsutenkaku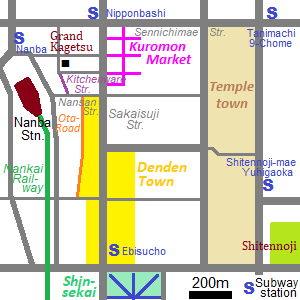 Tsutenkaku is an observatory tower standing in the center of Shinsekai district, and is one of the symbols of Osaka.
The first "u" is pronounced long, so it is read as "Tsûtenkaku".
It is 108 meters high, and the current tower was completed in 1956.
(The original tower was built in 1912, and was destroyed by fire in 1943.)
In 2015, earthquake resistance construction for this tower was carried out based on the lessons learned from the Great East Japan Earthquake in 2011.
At the height of 18 to 22 meters, there are a museum and souvenir shops.
(These are in the 2nd and the 3rd floors.)
We can go up to this part in the outside elevator.
On the roof of the part, there is a Japanese garden.
From the lower part, we can go up to the observatory on the top of the tower in another elevator.
There are two observatory rooms.
On the lower floor (the 4th floor), mirror balls are lit in the room in the evening.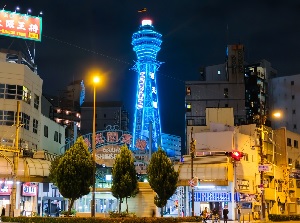 Tsutenkaku in the evening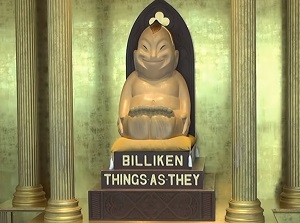 Billiken in Tsutenkaku
The 5th floor is decorated with gold color.
And Billiken statue is put in the center of floor.
It is said that Billiken will bring you good luck if you rub the soles of his feet.
Billiken is a charm doll created by an American art teacher and illustrator, Florence Pretz of Kansas City in USA in 1908.
It was introduced to Japan around 1909.
Then the statue was put in Shinsekai area in 1912, and Billiken in Osaka became popular.
In 1979, Billiken statue was put in Tsutenkaku and it became the symbol of Tsutenkaku.
Current Billiken statue was recreated in 2012.
Over these floors, there is a special observatory floor Tembo Paradise.
It is at the height of 94.5 meters and is an unroofed observatory.
The visitors over 5 years old can enter this observatory and the additional fee is required.
How to get here
From Shin-Imamiya station of JR Osaka loop Line, about 7 minutes on foot.
Nearest stations of subway.
Ebisucho (●K18 Sakaisuji Line)
Dobutsuen-mae (●M22 Midosuji Line)
Hotels around Tsutenkaku
Other Tourist Attractions in Osaka Prefecture
Around Kita area
Around Minami area
Waterfront area in Osaka city
Other area in Osaka Prefecture