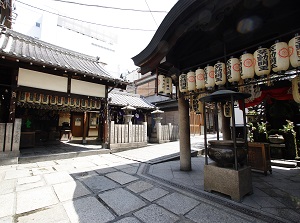 Hozenji
© Osaka Convention & Tourism Bureau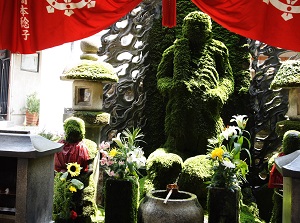 Fudomyo-o in Hozenji
© Osaka Convention & Tourism Bureau
Hozenji is a small Buddhist temple about 100 meters south of Dotonbori.
"O" in the word is pronounced long, so it is easd as "Hôzenji".
The temple was founded in 1637.
From 1644, the temple held a memorial service for 1,000 days.
"1,000 days" is translated as "Sennichi" in Japanese.
So this temple has also been called Sennichi temple (千日寺).
The town name around the temple is "Sennichi-mae", and the line name of subway running nearby is also "Sennichimae Line".
The temple was destroyed by fire and was rebuilt in 1855.
In World War II, all buildings of the temple were destroyed by U.S. air raid in 1945.
Fortunately, only a Buddha statue Mizukake Fudômyô-ô (水掛不動明王) remained.
Around 1960, only a few small building were rebuilt.
The main temple didn't be rebuilt, and Hozenji became a branch temple of a larger Choenji temple.
The remaining Mizukake Fudomyo-o has been popular.
For a long time, the worshipprs have poured water on the head when they worshipped.
Therefore, whole body of the statue has been covered with green moss.
It is said that, if you pour water and worship the statue, you will receive blessings of the Buddha.
Hozenji-Yokocho (
法善寺横丁

)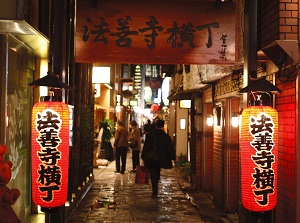 Entrance of Hozenji-Yokocho
© Osaka Convention & Tourism Bureau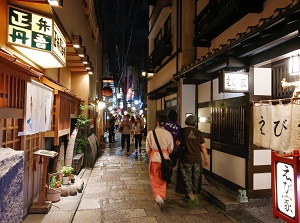 Alley of Hozenji-Yokocho
© Osaka Convention & Tourism Bureau
Hozenji-Yokocho is a small and narrow alley on the north side of Hozenji temple.
The alley about 80 meters long runs from east to west.
The roads are paved with stone, and there are small and old restaurants and bars along the street.
Originally, these streets were in the site of the temple, but the food stands for worshippers became a town without even notice.
The alley is near busy Dotonbori, but it is a calm town.
How to get here
Nearest stations of subway.
Nanba (●M20 Midosuji Line, ●Y15 Yotsubashi Line, ●S16 Sennichimae Line)
Other Tourist Attractions in Osaka Prefecture
Around Kita area
Around Minami area
Waterfront area in Osaka city
Other area in Osaka Prefecture