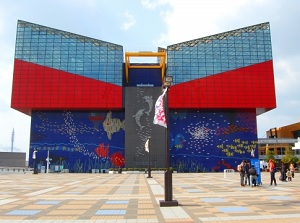 Kaiyukan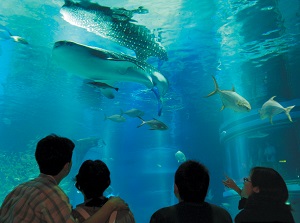 Huge fish tank in Kaiyukan
© Osaka Convention & Tourism Bureau
Kaiyukan is a large aquarium in Tempozan Harbor Village.
It is at the mouthe of Aji River and is located about 1 km south of Universal Studios Japan.
"U" in the word is pronounced long, so it is read as "Kaiyûkan".
This aquarium was opened in 1990.
This is one of the largest aquariums in the world.
Especially, the largest fish tank holds 5,400 cubic meters.
We can see about 580 kinds of water creatures.
First we pass through a tunnel of fish tank, then go to the highest floor by elevator.
And we come down from there.
Along the route, we can see 14 fish tanks.
Each tanks has one scene of the Ring of Fire and the Ring of Life areas of the Pacific Ocean.
For example, they are tropical rainforest in Ecuador, Aleutian Islands, Japan Trench, Great Barrier Reef etc.
And in the center of the route, there is the huge tank of "Pacific Ocean".
Basically, it is opened every day.
It is closed for only a few days a year due to maintenance.
How to get here
Nearest stations of subway.
Osakako (●C11 Chuo Line)

Hotels around Tempozan Harbor Village
Other Tourist Attractions in Osaka Prefecture
Around Kita area
Around Minami area
Waterfront area in Osaka city
Other area in Osaka Prefecture