Osaka Tenmangu shrine [
大阪天満宮

]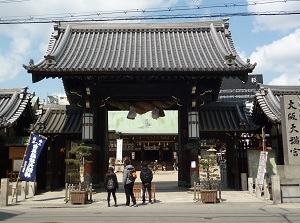 Entrance gate of Osaka Tenmangu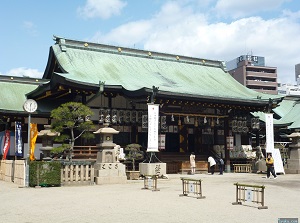 Worship hall of Osaka Tenmangu
Osaka Tenmangu is a Shinto shrine located about 2 km east-southeast of JR Osaka station.
The first "o" and last "u" in the word are pronounced long, so it is read as "Ôsaka Tenmangû".
Sugawara Michizane (845-903) was an excellent politician and had been exceptionally promoted.
But, in 901, he fell a victim to the schemes of the politicians who envied his promotion, so he was moved from Kyoto (the capital) to Kyushu Island (outlying area at that time).
On his way to Kyushu, he visit Taishogun Shrine in Osaka.
The shrine was one of the eight shrines set up on the unlucky directions from Naniwa Palace around 650.
The directions were based on a traditional Japanese esoteric cosmology, so the shrine was a guardian deity of Osaka.
Michizane died in Kyushu in 903.
After his death, plagues and droughts often occured in the country and some important persons died suddenly.
Some said that these were caused by the curse of the ghost of Michizane.
In 949, seven pine trees had grown in front of Taishogun Shrine suddenly.
And they radiated golden light every night.
Emperor Murakami heard the wonder story, and he thought that was the soul of Michizane.
He ordered to built new shrine for Michizane there.
It was Osaka Tenmangu shrine.
Therefore, in the precinct of this shrine, there are main shrine, Taishogun shrine and some other buildings.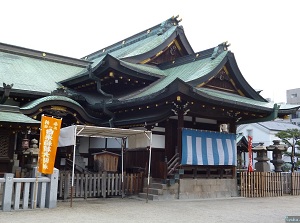 Main shrine of Osaka Tenmangu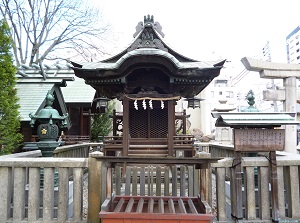 Taishogun Shrine in Osaka Tenmangu
Michizane loved ume (Japanese apricot) blossoms.
So there are about 100 ume trees and they bloom from late February to early March.
Michizane was also a scholar.
So this shrine is known as a god of learning and many students preparing for examinations visit this shrine to pass exams.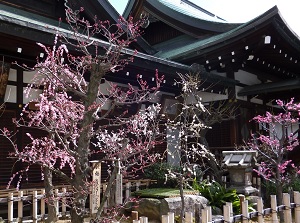 Ume blossoms in Osaka Tenmangu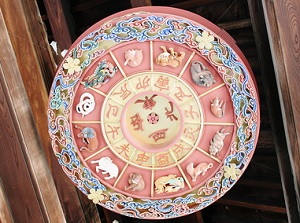 Carving of 12 animals on main gate
There is a unique board on the ceiling of main gate.
It is a round board with the carving of 12 animals of the Chinese zodiac indicating direction.
Chicken is one of the 12 animals and indicates "west".
But, on the board, Chinese phoenix is carved instead of chicken.
It is said that Michizane disliked chicken because a chicken crowed to hurry him in the morning of the departure to Kyushu.
How to get here
Near Osaka-Tenmangu station of JR Tozai Line.
Nearest stations of subway.
Minami-Morimachi (●T21 Tanimachi Line, ●K13 Sakaisuji Line)

Hotels around Osaka Tenmangu
Other Tourist Attractions in Osaka Prefecture
Around Kita area
Around Minami area
Waterfront area in Osaka city
Other area in Osaka Prefecture