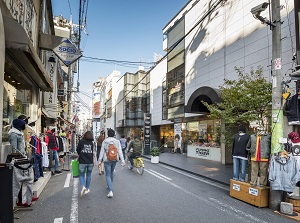 America Mura
© Osaka Convention & Tourism Bureau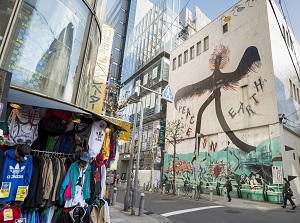 America Mura
© Osaka Convention & Tourism Bureau
America Mura is an area on the west side of Midosuji and to the southwest of the center of Shinsaibashi.
It is the area with about 2,500 shops of many cloths, sundry goods, CDs and so on.
Since the 1970s, this town has attracted the young.
So, the shops are mainly for young people, and they has treated the imported goods from west coast of America and Hawaii.
So this area is called "Amerika-mura" (American Village).
It is also called "Harajuku of the west".
It is a trendsetting town in Osaka.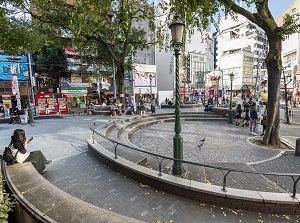 Sankaku Park
© Osaka Convention & Tourism Bureau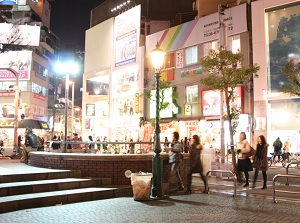 Sankaku Park in the evening
America Mura has indefinite area.
But the center of America Mura is Sankaku Park (三角公園).
It is a small triangular park and the formal name is Mitsu Park (御津公園).
It is the popular meeting place in America Mura.
There are a few Takoyaki shops around the park.
And Ice dog is unique.
It is a hot dog putting ice cream instead of sausage.
You can eat this snack near the park.
How to get here
Nearest stations of subway.
Shinsaibashi (●M19 Midosuji Line, ●N15 Nagahori-Tsurumiryokuchi Line)
Other Tourist Attractions in Osaka Prefecture
Around Kita area
Around Minami area
Waterfront area in Osaka city
Other area in Osaka Prefecture