Umeda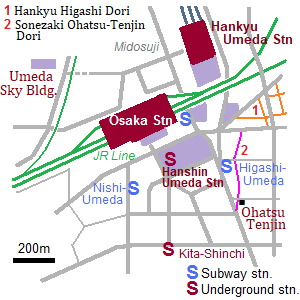 Umeda is the northern downtown of Osaka city, and is often called "Kita" meaning "north".
There is JR Osaka station in the center of the area. Umeda terminal station of Hankyu Line is on the north side and Umeda terminal station of Hanshin Line is on the south side. Hanshin-Umeda is below ground.
And Midosuji Line and other two subway lines run through this area.
Additionally JR Tozai line run underground about 500 meters south of Osaka station, and Kita-Shinchi station is set up.
The area of "Kita" expands to there.
Around these stations, there are many high-rise buildings and most of them have commerce facilities.
They are department stores, shopping malls, various boutiques, restaurants and cafes.
Additionally underground malls are in this area.
So this area is crowded by shoppers, commuters and travelers all day.
Umeda is near Itami Airport, then taller building more than 190 meters is not allowed to construct.
But Umeda Sky Building located about 0.5 km northwest of Osaka station is 173 meters high, and it has the most popular observatory floor in Umeda.

To the east of Midosuji Boulevard, there are some amusement area.
Hankyu-Higashi-doori street and Sonezaki-Ohatsu-Tenjin-doori street are popular, and many restaurants, pubs and game arcades are along them.
Ohatsu Tenjin is a small shrine and is near the entrance of Sonezaki-Ohatsu-Tenjin-doori street from Midosuji. The formal name is Tsuyuten shrine.
In 1703, a love suicide was in this shrine, and Monzaemon Chikamatsu, a Kabuki actor, wrote a drama for Joruri (Japanese puppet ballad-drama) from the case.
The heroine was Ohatsu, so this shrine has been given the name as the nickname.
Kuchu-teien : Observatory floor of Umeda Sky Building
How to get to this area
By Shinkansen
Get off Shin-Osaka by Shinkansen, and about 4 minutes to Osaka station by JR Kyoto Line (Next station).
By subway and other railway companies
Umeda (Midosuji Line), Higashi-Umeda (Tanimachi Line), Nishi-Umeda (Yotsubashi Line)
Umeda (Hankyu Line), Umeda (Hanshin Line)
---
---
---
Copyright ©
travel-around-japan.com
. All Rights Reserved.