North side of Osaka station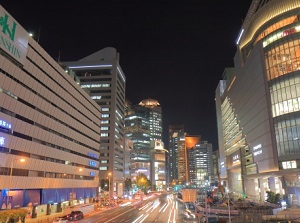 South side of Osaka station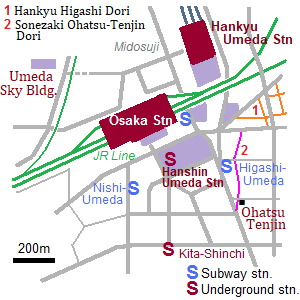 Umeda is the northern downtown of Osaka city.
The area is often called Kita meaning "north".
There is JR Osaka station in the center of the area.
Umeda terminal station of Hankyu Railway (To Kyoto, Kobe) is on the north side and Umeda terminal station of Hanshin Railway (To Kobe) is on the south side.
Hanshin-Umeda is under the ground.
And Midosuji line and other two subway lines run through this area.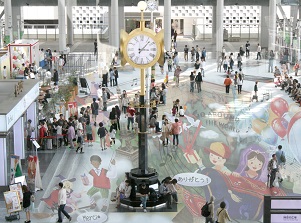 Entrance square in Osaka station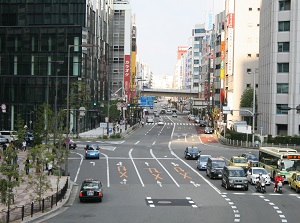 Street to the east from Osaka station
Around these stations, there are many high-rise buildings and most of them have commercial facilities.
They are department stores, shopping malls, various boutiques, restaurants and cafes.
Additionally, underground malls are in this area.
So this area is crowded by shoppers, commuters and travelers all day.
Midôsuji Boulevard (御堂筋) runs from north to south through this area.
It is the main street in the center of Osaka city.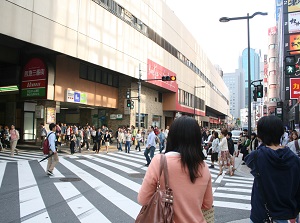 Around Hankyu Umeda station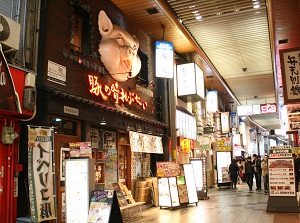 Hankyu Higashi Dori
On the east side of Midosuji, there are some amusement area.
Hankyu Higashi Dori (阪急東通) is the area with several narrow streets to the east of Osaka station.
Many restaurants, pubs and game arcades are along them.
Ohatsu Tenjin (
お初天神

)

Entrance of Ohatsu Tenjin (Tsuyu no Tenjinsha)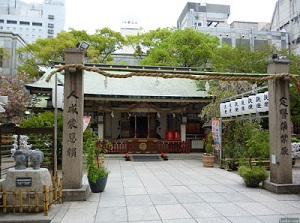 Main shrine of Ohatsu Tenjin
Ohatsu Tenjin is a shrine located about 500 meters southeast of Osaka station.
The formal name of the shrine is Tsuyu no Tenjinsha shrine (露天神社).
It is said that this shrine was founded around 700.
In 1703, a love suicide was in this shrine.
The unhappy heroine was "Ohatsu", so this shrine has been given the name as the nickname. (Her lover was "Tokubei".)
Chikamatsu Monzaemon (1653-1725, a Kabuki actor) wrote a sad drama based on the case for Joruri (Japanese puppet ballad-drama).
Because this name of the town is "Sonezaki", the title was "Sonezaki-Shinju".
The drama was a big hit at that time.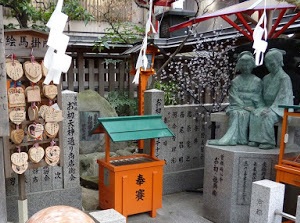 Dedicated Ema, Statue of Ohatsu & Tokubei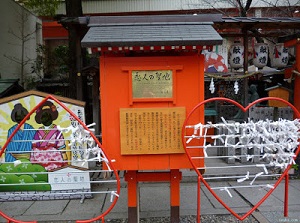 Sign of "Sacred ground for lovers"
Therefore, this shrine has been believed to be a god of marriage (matchmaking).
In the precinct, there is the statues of Ohatsu and Tokubei.
And the vistors can dedicate Ema (Votive horse tablet) on which they write their prayers and wishes (Probably, succeeding in love) to the shrine.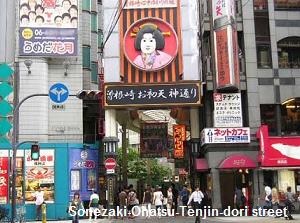 Entrance of Sonezaki Ohatsu Tenjin Dori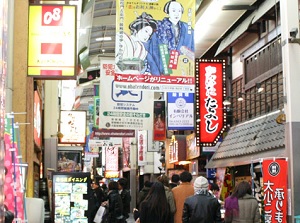 Ohatsu Tenjin Dori
Ohatsu Tenjin Dori (お初天神通り) runs to the north from the shrine.
It is the approach to the shrine and is a shopping arcade about 250 meters long.
Many restaurants, pubs and game arcades are along the street.
Kita-shinchi (
北新地

)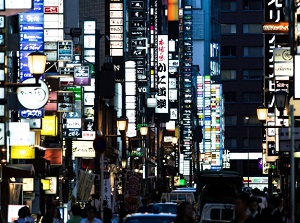 Kita-shinchi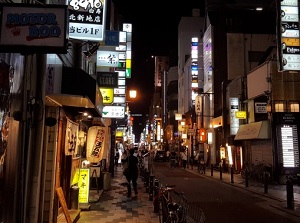 A street in Kita-shinchi
Kita-shinchi is an amusement area located to the south of Umeda area.
Since the 17th century, this area has been the main amusement area in Osaka.
Rich merchants in Osaka enjoyed entertainment in this area.
The area is on the south side of JR Kita-shinchi station located about 400 meters south of Osaka station.
It is about 700 meters from east to west and about 250 meters from north to south.
There are about 3,000 pubs, snack bars, small reataurants in the area.
But many of them are high-grade and there are few common people's pubs.
So, it is said that Kita-shinchi is similar to Ginza in Tokyo.
How to get here
By Shinkansen, get off Shin-Osaka.
Then about 4 minutes to Osaka station by JR Kyoto Line (Next station).
There are the terminal stations of Hankyu Railway and Hanshin Railway.
Nearest stations of subway.
Umeda (●M16 Midosuji Line)
Higashi-Umeda (●T20 Tanimachi Line)
Nishi-Umeda (●Y11 Yotsubashi Line)
Other Tourist Attractions in Osaka Prefecture
Around Kita area
Around Minami area
Waterfront area in Osaka city
Other area in Osaka Prefecture